HOUSTON LANLORD TENANT ATTORNEYS
COMMERCIAL AND OFFICE LEASE AGREEMENTS & LANDLORD TENANT LAW

Texas Commercial Lease Contracts and Resident Lease Agreements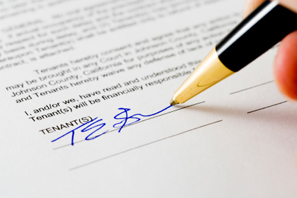 Commercial leases are often long and complicated by obscure legalese and terms of art that only the most business savvy individuals or those who are within the industry would be able to understand. However, these provisions are necessary to protect both the landlords and the tenants. The Houston Lanlord Tenants Attorneys and the Houston Lease Agreement Lawyers assist our clients in drafting, refining, or negotiating the commercial leases to meet their needs. Oftentimes, the parties do not contact attorneys until it is too late and only use standard commercial lease contracts. Only after they have signed a lease contract that the parties realized the lease agreements may not offer adequate protection for the parties. Tenants should be especially careful when signing a lease on a property that is under construction or a newly developed property because vague language has the tendency to betray the purpose of the tenant's lease and bind such tenant for years. Spending a few hours with the Houston Commercial Lease Attorneys and the Houston Landlord Tenants Lawyers could potentially save you thousands of dollars and mitigate the need to litigate issues related to your lease agreements at a later time.
Our Houston Landlord & Tenants Attorneys and Southwest Houston Landlord Tenants Lawyers are experienced in reviewing and drafting residential and commercial lease agreements. Residential lease agreements must contain specific statutory languages, especially of the landlord intend to lease the premise "as is," under Section 92.006(E) of the Texas Property Code. In addition, the landlord may also file a lien on the tenant's nonexempt personal properties, provide notice of sale, and sale the nonexempt properties to cover delinquent backrents if certain languages are stated in bold-face within the contract in accordance to the Texas Property Code. With respect to commercial leases, there are unique issues that is only application to commercial leases that needed to be address, such as Common Area Maintenance (CAM), tripple-net (taxes, insurance, and maintenance), construction provisions, and environmental issues, just to name a few. Our experienced Houston Commercial Lease Attorneys and our Houston Landlord Tenants Lawyers will assist you in drafting and reviewing intricate issues to ensure your rights are protected under the lease contract.

Inaddition, our Houston Landlord Tenants Eviction Attorneys and our Houston Commercial Lease Eviction Lawyers also have vast experience in both defending evictions as well as enforcing lease agreement through the eviction process for nonpayment of rents. The Houston Landlord Tenants Lawyers at The Law Offices of Steven Tuan Pham also file suit to collect back-rent on behalf of our clients in eviction suits. You are encouraged to contact one of our attorneys for more informaion regarding Houston landlord and tenants issues.
Enforcement of Lease Agreements
In its simplest form, a lease is nothing more than a contract between the landlord and the tenant for the possession and use of the leased premise. Generally, lease agreements must have clear, unambiguous language. Like any other contract, a lease is ambiguous when its meaning is uncertain, doubtful, or it is reasonably susceptible to more than one meaning. Any ambiguous and legalese language must become apparent when the contract is read in the context of surrounding circumstances. Furthermore, in order for an agreement to become a binding contract, the parties must have mutual understanding of the terms and conditions of the agreement (also known as "mutual assent," or "the meeting of the minds,"). Mutual assent is essential on the central issues of the contract, such as the price, effective date of the lease, delivery and date of possession, default provisions, payment of rents, etc… When the language are vague and more than one reasonable interpretation can be drawn, there may not be meeting of the minds between the parties; and, therefore, no contract. In fact, when there are more than one reasonable interpretation of the contract, the meaning is construed against the drafting party. Another word, the "innocent," non-drafting party, may prevail. Consequently, there is a fine line in which landlords need draft a detailed contract to protect their interests, but to avoid ambiguous and vague languages.

In addition to the foregoing, the contract must have mutuality of obligation, binding the parties to take certain actions. In the context of a lease, payment of rent and delivery of the property for possession are usually the mutual obligations of the parties; and, such obligations must be clear and definite. Lastly, a court will hold that a contract is voidable where the clauses are so one-sided as to be unconscionable to the other party, such as a boiler-plate lease agreement that is mostly in favor of the landlord. This includes contracts that contain inconspicuous (ambiguous) risk-shifting provisions such as language that would make the landlord's promise non-actionable or voidable.
As stated above, a lease agreement can be confusing even to the most scholarly person, especially in a commercial lease. Prior to signing a commercial lease agreement as either a Landlord or a Tenant, you should speak to one of our Houston Commercial Lease Lawyers. Our Houston Landlord Tenants Attorneys will be able to assist you in drafting and negotiating a contract that is fair and equitable for both parties to avoid potential lawsuit. At the same time, if you have a leasing dispute, irrespective of whether you are a Landlord or a Tenant, please contact our Houston Landlord Tenants Attorneys and our Southwest Houston Landlord Tenants Lawyers to resolve your concerns and disputes. To learn more about our attorneys and services, please feel free to contact us at713-517-6645 or through our online inquiry page.
DISCLAIMER



Each business entity is unique in its line of business. As such, no two lease agreements are exactly the same, even if it is within the same industry. We encourage you to contact our Houston Commercial Landlord Tenants Lawyers and our Houston Landlord Tenants Contract Attorneys to get more information regarding issues that should be addressed in your lease. Further, our experienced Houston Landlord and Tenant Dispute Attorneys and our Houston Landlord & Tenants Litigation Lawyers may also be able to assist you in resolving disputes between the parties, prior to filing suits for evictions, nonpayment of rents, and for lease defaults. Regardless, the best way to avoid a lease default and promote a healthy landlord/tenant relationship draft detail, unambiguous lease contracts and agreement and address issues that may potentially cause the breach. You should NOT rely on the information on of this web site in replacing a personal consultation with an experienced Houston Landlord & Tenants Lawyers and the West Houston Landlord Tenants Attorneys at The Law Offices of Steven Tuan Pham  There may be legal issues in which you may not be aware that affects your rights and obligations as a party to a lease agreement. We encourage you to contact our Southwest Houston Landlord Tenants Attorneys and our Houston Landlord and Tenants Lawyers at 713-517-6645 or complete our Contact Form.
Our office is conviently located in the Westchase Business District (10 minutes from the Galleria and 20 Minutes from Downtown Houston). Serving Clients in Texas and the Houston metroplitan such as West Houston, Southwest Houston, Sugar Land, Katy, Copperfield, Memorial, Spring, Northwest Houston, Northchase, Spring Cypress, Champion Forest, The Woodlands, Kingwood, Humble, Lake Houston, Midtown, Memorial, West Oaks, Royal Oaks, Missouri City, Richmond, Pear Land, Clear Lake, League City, Westchase Business District, Harris County, and Galveston County. In addition, our Houston business attorneys also have the language ability to communicate and to translate for clients who speak Vietnamese, Tagalog, Hindi, and in Urdu.